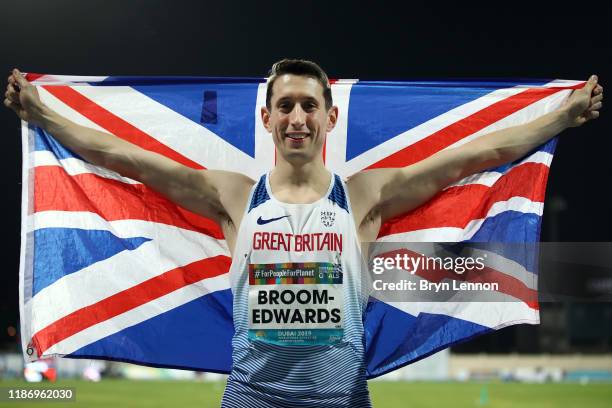 Jonathan Broom-Edwards, who joined Marshall Milton Keynes as a second-claim member in the summer (and competed for us as a non-scoring member of the SAL team at St Albans), won the T64* High Jump in Dubai with a leap of 2.02m.
According to the report on the British Athletics website:
Following an Achilles injury in 2018, Broom-Edwards returned to the international stage in style by winning his maiden T64 high jump title.
The 31-year-old kept his competition alive with a third-round clearance at 1.99m, but it was his final attempt at 2.02m that saw him snatch the title from under the nose of Temurbek Giyazov (UZB) to earn his first World Para Athletics Championship gold.
After making his triumphant return to the world stage, Broom-Edwards feels he has put his injury worries to bed and shown that he can be a serious contender on the world stage when it counts.
He assessed: "There are just so many different emotions flowing through me today. I don't know if I'm going to sleep tonight, it's been a long time coming and it's been a hard 18 months, but I made it and it definitely gives me some relief.
"Even though I didn't perform as well as I would have hoped, to get what I came out here to do makes me really happy. It would have been nice to get a season's best and edge towards my personal best, but that will come when I'm ready. I'm happy that when it counted, I managed to pull it out the bag.
"It's a proud moment to achieve what I have achieved definitely. I will probably end up crying on the podium I'm sure, but it's a stepping stone to the main event which is Tokyo next year."
Full story on the British Athletics website
*T64 – Athletes with unilateral below knee limb deficiency competing with a prosthesis where the minimum impairment criteria for lower limb deficiency and leg length discrepancy are met (see World Para Athletics Rules and Regulations). The primary impairments are in the upper limbs.